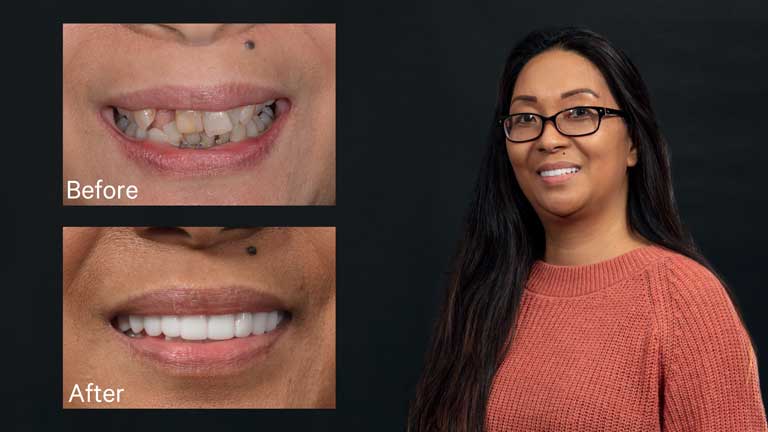 Remellee talks about top-quality care
Since early adulthood, I've dealt with gum disease which progressively got worse. As a result, I didn't like my teeth or my smile and was very self-conscious. I didn't like to smile. Despite all this, I didn't go to the dentist for a long time because of my high anxiety.
In 2020, I had a front tooth become very loose, and it eventually started falling out. My dentist referred me to a periodontist who explained all my options and the pros and cons of each. They ultimately recommended I get dental implants because of how bad my teeth were. At first, my husband and I were shocked at the price they quoted for dental implants. But the periodontist also explained that dental implants were more cost-efficient in the long run. Even so, I decided to get a second opinion and compare prices. After a Google search, I found Dr. Patel.
Dr. Patel also examined my teeth and recommended dental implants. We talked about my dental anxiety, and Dr. Patel and his staff were were all so nice and comforting. I felt very relaxed and at ease. At my appointment, they made sure I was OK and that my husband was always with me for additional support. I have never felt so comfortable being at the dentist. Hands down, I choose Dr. Patel.
When Dr. Patel performed my surgery for my dental implants, it all went well. Afterward, the next few months were rough while I healed and temporarily adjusted to soft foods. I wasn't used to my new teeth for a while, but in the end it was all worth it.
I am very happy with my new smile. Now, I smile all the time and I'm not embarrassed to show my teeth. I get compliments all the time. I'm so happy I chose Dr. Patel. He and his staff are wonderful, and I would recommend him to anyone.
Dr. Neal Patel can help you
We believe everyone should be happy with the appearance and function of their smile. No one should feel the need to hide their smile from loved ones. We also understand that not everyone enjoys going to the dentist. In some cases, it can be very frightening.
That is why Dr. Patel has built his office Infinite Smiles at Powell, Ohio with the patient in mind. We offer unprecedented patient amenities for comfort and care. In addition, our contemporary office boasts an atmosphere only rivaled by that of a 5-star hotel. On top of this, our staff are highly-trained to care for our clients' needs. We want to ensure everyone has a comfortable and enjoyable time during their appointments with us.
During Remellee's transformation, we worked with her to craft a smile she could be truly happy with. We first extracted the unhealthy teeth using more comfortable, minimally invasive techniques perfected by Dr. Patel. In their place, Dr. Patel set dental implants topped with flawless crowns to create a natural-looking, beautiful smile she would love to show off.
All of Remellee's smile transformation was completed by the caring professionals at our office. And if you are also looking to achieve your dream smile but are afraid to start, we can help. Contact us online or call our office at 740.881.2600 to schedule your first appointment today! We look forward to caring for you.