Are your gums starting to pull away from your teeth? Are they sensitive or discolored, and are the roots of your teeth starting to become exposed? If so, you should seek treatment by a dental professional. Our office is fully trained on the latest techniques for correcting gum recession before it becomes more severe.
The dentists at Infinite Smiles, the office by Dr. Patel, can help diagnose the underlying cause of your gum recession and begin treatment as early as that same day. For receding gums, a revolutionary technique called the Chao Pinhole® Surgical Technique can help. Dr. Patel can use this minimally invasive treatment to correct gum recession and save your teeth in as little as 30 minutes.
If you're curious to learn more about correcting your gum recession, this article may help. If you would like to schedule your appointment, call our office at 740.881.2600. Or, schedule your complimentary consultation online, anytime.
Why should I be concerned about my gum recession?
At our office, we encourage all our clients to attend their annual dental exams. At your exam, Dr. Patel aims to catch dental complications like gum recession before they become severe. This is because gum recession can severely impact the health of your teeth in many ways.
First, receding gums expose sensitive and vital parts of your teeth. Bacteria can collect in these areas, accelerating the decay of gum tissue and tooth roots. Second, severely receding gums can cause otherwise healthy teeth to fall out. This is because healthy gums help secure teeth in place.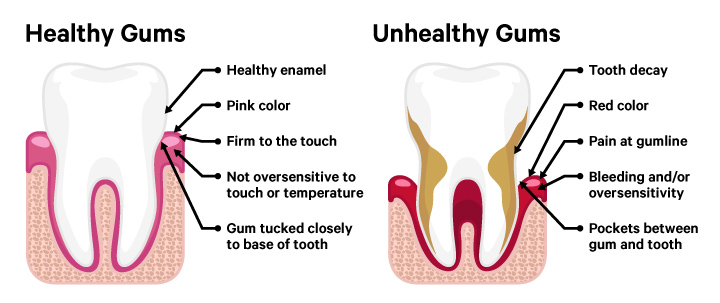 In addition, gum tissue typically does not regrow on its own once it has receded. This is because gum tissue is not a regenerative tissue. And, because gum recession is usually a sign of other underlying health issues, it is important to have your dentist look at your gum recession before it becomes severe.
What causes gum recession?
Dr. Neal Patel takes a holistic approach to the health of your teeth and body. So, before we treat your gum recession, we want to diagnose the underlying cause. Once we properly treat the reason for your gum recession, we can then treat your receding gums. This prevents the issue from returning.
There are several potential causes for gum recession. The most common cause is periodontal disease. This occurs when the bacteria that cause tooth decay infect your gums. Essentially, the acid secreted from the harmful bacteria irritate and permanently damage your gum tissues. This ultimately causes the tissue to shrink and pull away from your teeth.
Other common causes of gum recession include:
Genetics (some people are genetically prone to gum recession)
Hurting your gums by vigorously or improperly brushing and flossing
Wearing dentures that don't fit well on your gums
Wearing removable retainers or mouth guards that are dirty or too tight
Recently undergoing major tooth realignment (for example: braces, Invisalign®)
Retaining injury to your gums
Routine teeth grinding or jaw clenching
Any kind of tobacco use
Because there are several probable causes, it takes a skilled dental professional to properly diagnose and treat gum recession. Fortunately, Dr. Patel is equipped with the latest treatment techniques for you. And, we help you complete your treatment faster and more comfortably than ever.
The Chao Pinhole® Surgical Technique
Typically, a dental surgeon performs gum graft surgery to correct gum recession. This technique works well, but it does have drawbacks. For one thing, gum grafting requires excising tissue from the mouth and placing it over the surgically prepared gum tissue. As a result, the procedure takes more time and recovery is longer and more complex.
Dr. Neal Patel offers a more comfortable solution that is just as effective for most cases of gum recession. And, it is both minimally invasive and far more convenient. This treatment is called the Chao Pinhole® Surgical Technique.
Here's how this revolutionary surgical technique works:
First, Dr. Patel numbs the affected area
Then he makes a hole the size of a pin into the receded gum tissue
Next, using specialized tools, he gently draws healthy gum tissue through the pinhole
That gum tissue is then placed over your teeth, on the affected area
Finally, thin collagen strips are placed atop the tissue to keep it in place as it heals
The process is as simple as that! Often, the procedure takes no longer than 30 minutes, and you can expect minimal disruption to your day. The process requires no incisions, and the pinholes heal quickly, without sutures. That means far more comfort and a faster recovery.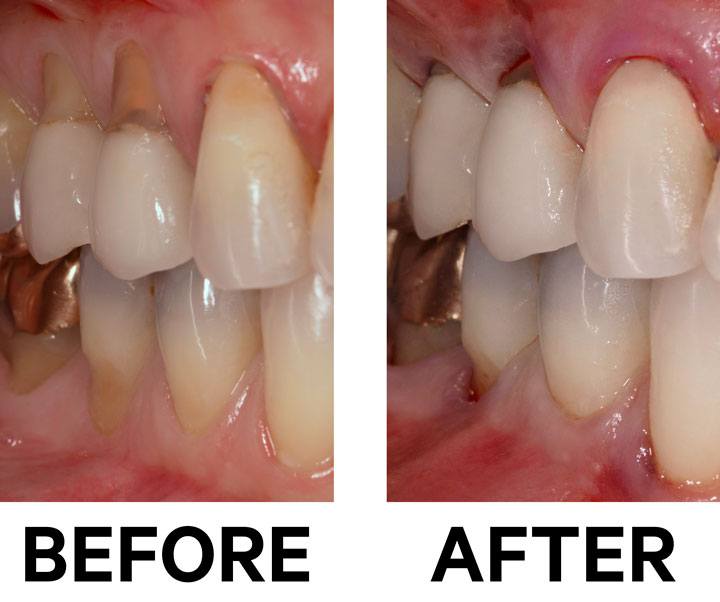 Most importantly, the pinhole surgical technique helps restore the health and placement of your gum tissue. The treatment covers and protects exposed roots from harmful bacteria and decay. And, the added security will also prevent otherwise healthy teeth from becoming loose or falling out. Additionally, you can expect enhanced aesthetics where your smile was previously affected by gum recession.
The Chao Pinhole® Surgical Technique is not available everywhere. This is because special training is required to be certified to provide this treatment. Fortunately, Dr. Patel has completed this training to continue to provide our clients with the highest quality of care available.
Gum recession can have several underlying causes, and our office can help. If you are suffering, don't delay your treatment. Call our office at 740.881.2600 today to schedule your appointment. Or, schedule your complimentary consultation online, any time. We look forward to helping you find a modern solution to correcting your gum recession.