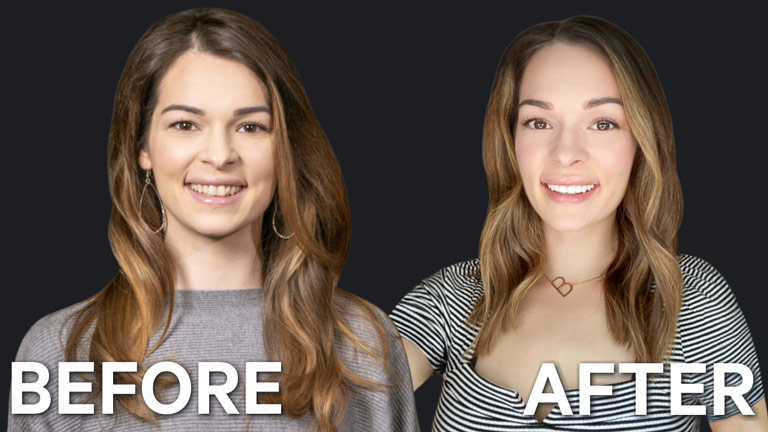 Brianna talks about beautiful results with adult braces
A beautiful smile is all I wanted, and I am so happy that Dr. Neal Patel provides Six Month Smiles®. He gave me exactly what I was looking for and the consultation process was quick and easy. They used the impressive technology at their office to detail the plan of action. And, everyone listened to my requests and answered any questions I had. I couldn't wait to start.
I wore my braces for seven months and the time went by so fast. When I wore them, I got to see so much progress every day. And, every appointment was met with compliments on my improvements. The anticipation of seeing my new smile was exciting. The whole time, Dr. Patel provided flexibility in scheduling and encouraged my input. On top of that, he provided me a discreet braces solution that kept me confident in my everyday life.
My favorite part of the whole process was, of course, getting my braces off. Immediately after removal, Dr. Patel put the finishing touches on my new smile followed by whitening. It was like the cherry on top. A beautiful enhancement to an already beautifully straight smile. I couldn't wait to show off my new look!
I encourage anyone interested in braces to visit Dr. Patel at Infinite Smiles of Powell, OH. The results are amazing, you will not be disappointed.
Dr. Neal Patel can help you
Sometimes, all you need for a flawless transformation is a straighter, brighter smile. In Brianna's case, Dr. Patel was able to completely change her smile's appearance with adult orthodontics and some minor cosmetic adjustments. For those looking to straighten their smile, Six Month Smiles® braces are one of the fastest and most discrete options.
Many clients have trusted Dr. Patel with their smile transformations, and these are an excellent orthodontic solution. And, Dr. Patel completed Brianna's smile makeover all in his own office. From teeth straightening to reshaping and whitening, Dr. Patel provides all these services in-house. These quick procedures are long-lasting, non-damaging, and make a huge difference in the appearance of healthy teeth.
If you are looking to change your smile with short-term orthodontics solutions, contact us. To schedule your own appointment, we are available at 740.881.2600, or use our convenient online form anytime. Whatever your need, we look forward to helping you achieve the dream smile you've always wanted.