Since 2008, Infinite Smiles of Powell, OH has provided the latest, least invasive dental treatments for truly unprecedented dental care. From comprehensive digital dentistry to same-day smile transformations, Dr. Neal Patel stands out as one of the best. So, when Neocis® released the revolutionary Yomi® Robotic System, Dr. Patel knew it would be perfect for his practice.
Introducing Yomi® robotic dentistry by Neocis®
Yomi is a state-of-the-art assistant for guided, one-day dental implant surgery. It is also the first and only FDA-cleared robotic device of its kind. Instead of working entirely independently, the robotic arm works with Dr. Patel. It guides his hand based on the client's 3D digital scans taken at our office.
It does this at the time of the procedure by reading the already established digital implant treatment plan created by Dr. Patel. Using advanced software, Yomi is smart enough to read these scans and know the exact position of the client's face in real-time. The robotic arm is guided by the software and surgical simulation data provided. Then, Dr. Patel controls the surgical tools while Yomi assists his hand by providing physical cues. This ensures every step of the procedure is as precise as possible.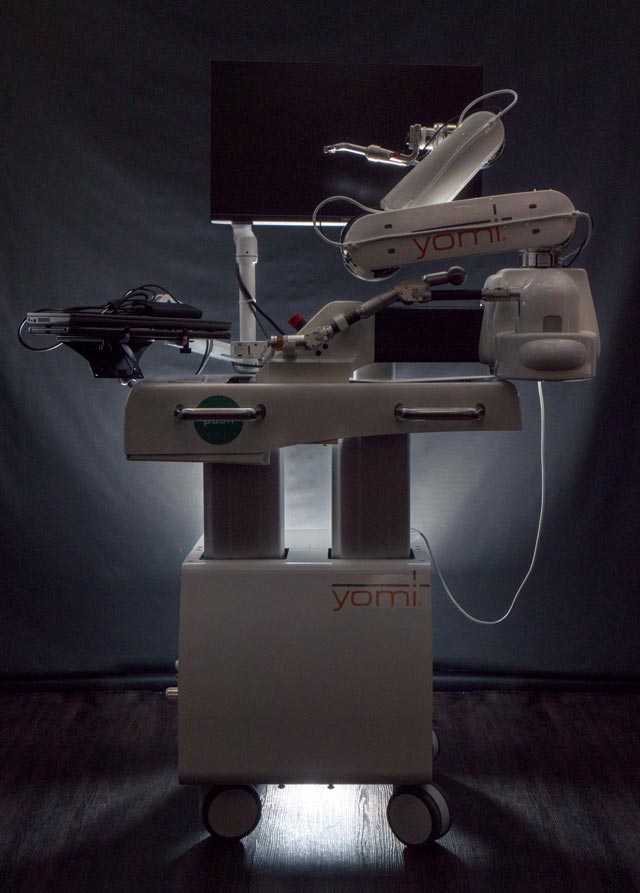 One-day dental implants and more minimally-invasive procedures for candidate patients. *
Can assist in providing dental implant placements with smaller incisions and no sutures.
Helps with precise planning and placement for better, brighter, more aesthetic outcomes.
How the Yomi® robotic assistant helps using haptic guidance
Instead of taking over, the Yomi Robotic System assists Dr. Patel. First, it helps stabilize the dental tools he is holding. Second, it helps him retain direct focus throughout the dental implant procedure by using haptic guidance.
What is haptic guidance? Simply, Yomi provides resistance and an audio cue if Dr. Patel moves outside of the digital treatment plan. And when moving in the correct direction, there is no resistance and the procedure continues as normal. In this way, the robotic assistant augments the clinical expertise of the dental team during the procedure.
As always, Dr. Patel remains in control and in direct contact with the instruments and the client at all times. And if an adjustment needs to be made during the procedure, Dr. Patel can do so. He simply inputs the change in the treatment plan and continues with the surgery. This is superior to surgical guides which cannot be adjusted during the procedure without causing potentially significant delays.
"I'm completely confident in my skills as a surgeon. What Yomi does best is help my more nervous clients feel more relaxed. In my most complex cases, it provides tidier procedures and faster, more comfortable recovery times. Any of my clients who need complex dental restorations can rest easier knowing their upcoming procedures will be guided by digital assistance."
Removing the need for bulky surgical guides
Yomi helps Dr. Patel reduce the potential for miscalculation during surgery by guiding his hand based on the digital treatment plan he creates. While Dr. Patel is already no stranger to precise, minimally invasive, one-day dental implant procedures, Yomi improves that process even further.
Up to now, Dr. Patel has expertly placed dental implants free-hand, because surgical guides can be too bulky and cumbersome to be effective. In cases where he uses guides, they are created based on our accurate treatment plans and fit precisely over the surgical site. In this instance, they can be beneficial tools for ensuring direct placement for dental implants. However, surgical guides tend to be too bulky for many of the small spaces of the mouth. They also cannot be adjusted at the time of the procedure without causing a delay.
Because Yomi uses our digital treatment plans as guides, its assistance alone is accurate up to a fraction of a millimeter. Now, Dr. Patel can more directly implement his treatment plans for clients without ever needing a bulky surgical guide. This reduces the invasiveness of the procedure, creating smaller, more accurate incisions that can require no sutures at all.
"With Yomi, I can even more confidently provide patients with the absolute best dental implant treatment plans that technology has to offer. My treatment plans were already accurate up to a fraction of a millimeter. But now we have the option to achieve precise implant placements without the need for a custom-printed surgical guide. This results in faster dental implant procedures with fewer steps and even less room for error. It's a fantastic solution for me, my team, and my clients."
Experience Yomi® robot-assisted dentistry
Dr. Patel is widely known as an expert dental educator and advocate for digital dentistry. And Dr. Patel plans to train less experienced doctors on Yomi technology to expand their practices for the benefit of their patients. This is because Infinite Smiles of Powell, OH has always prioritized making better dental care more accessible to both doctors and patients alike.
The benefits of Yomi robotic dentistry are clear. It helps provide patient-customized, safety-enhanced procedures with enhanced precision. And it does this by utilizing our digital treatment plans to help guide Dr. Patel while he performs the procedure.
Learn whether you are a candidate for Yomi-enabled dental implant surgery. Schedule your complimentary consultation using our convenient online form. Or, call our office today at 740.881.2600 to speak with our team. We look forward to providing you with exceptional dental implant treatment!
To learn more about the Yomi Robotic System, visit Neocis® at their website www.neocis.com. ©2022 Neocis, Inc. NEOCIS and YOMI are registered trademarks of Neocis, Inc. All rights reserved.
* Be sure to discuss all treatment options with us as your dental provider. Our dental team will review your medical and dental history to determine if you are a candidate for this procedure. If you have a separate primary dental provider, speak with them about Yomi-enabled dental implant surgery. We are happy to work with your provider if they believe you are a good candidate for robotic dentistry.